Powder room, spare bathroom, guest bathroom, most homes have one and in most homes they look about the same, small sink, toilet, mirror, and rug.  So what can you do to spice yours up?  What about a sink that is unusual, perhaps a re-purposed item, a piece of art, carved from stone — there are so many inspiring options it makes one wonder why not have something special and unique in a guest bath.  There are lots of different sinks out there, and we have a few examples of some of the most artistic, funky and inventive ones we've seen.
One idea we have seen at J Myers & Assoc. is the copper bucket sink, seen below – we liked the idea of using something created for a different purpose and making it into this wonderful sink.  This is a great example of taking something you would find at a flea market or country store, and converting it into a stylish, eye-catching, piece.  You could do copper, as seen in the first picture, or leave it galvanized steel, as seen in the second example — what's your design style?
Another different, but not too different, idea is to have a stone bowl sink.  There are a few of these below.  You can pick the color and type of stone to go with your overall design style.
We've saved the most "unique" for last!  The internet lately as been showing these fish-tank sinks!  This is quite a statement piece that in the right home would be an amazing conversation piece! It is truly creative, to say the least.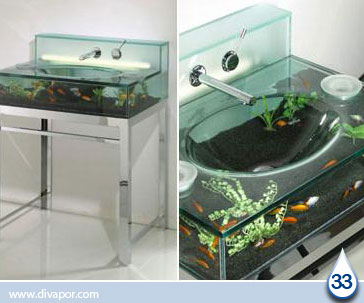 Well, there you have it, a few examples of sinks that can really make your powder room unique, show a bit of personality and your design style. The powder bath sink is a great way to be a little different.  Thanks for reading!